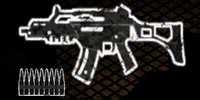 Korbov TK6
The Korbov TK6 is the game's second and best assault rifle. It is the most expensive weapon in the game, but it is very much worth its price. It has higher damage and accuracy than the AKS-74. Because it is available so late in the game and because of its high price, players often do not have enough money to purchase this weapon.
The only time the Korbov is seen wielded by enemy soldiers is at the beginning of the final chapter, when the player encounters Agency Troops. They are all equipped with Governors.
Statistics:
Edit
The Korbov TK6 is based off of the H&K G36C assault rifle.
Ad blocker interference detected!
Wikia is a free-to-use site that makes money from advertising. We have a modified experience for viewers using ad blockers

Wikia is not accessible if you've made further modifications. Remove the custom ad blocker rule(s) and the page will load as expected.